Figma has skyrocketed in popularity due to its exceptional ease-of-use when it comes to designing prototypes. It has revolutionized the design process, and one of the key elements that contribute to its success are widgets. These invaluable additions allow users to extend the functionality of Figma, enabling them to create even more impressive and interactive designs. What's even better is that these widgets are available for free, making them accessible to everyone. In this article, we delve into the world of Figma widgets, showcasing the ten best ones that will undoubtedly enhance your design workflow and take your prototypes to the next level.
Best Figma Widgets
Let's explore the vast array of possibilities and discover how these remarkable widgets can transform your Figma experience.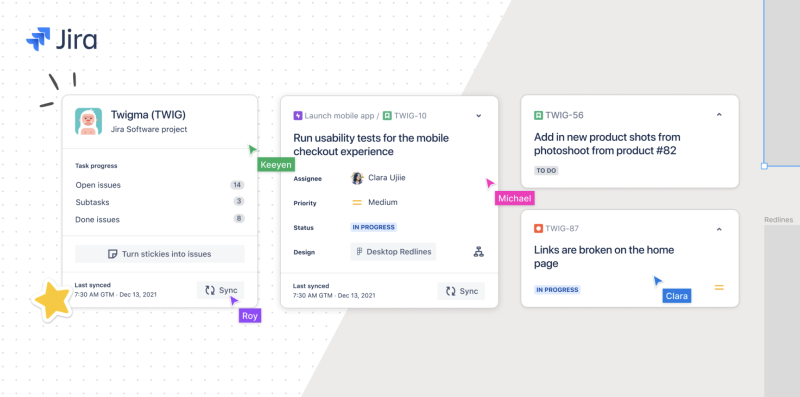 The Figma widget for Jira enables the seamless import of Jira Cloud issues into Figma, facilitating discussions and collaboration within Figma's collaborative environment. Users can adjust issue details and even document new problems as Jira issues, referencing Figma designs if needed.
Similarly, the Asana widget offers integration between Asana and Figma, allowing users to import project management tasks and collaborate within Figma. While Asana is a general project management tool, Jira is specifically tailored for development issue tracking. Both widgets enhance efficiency and streamline workflows by merging project management and design processes.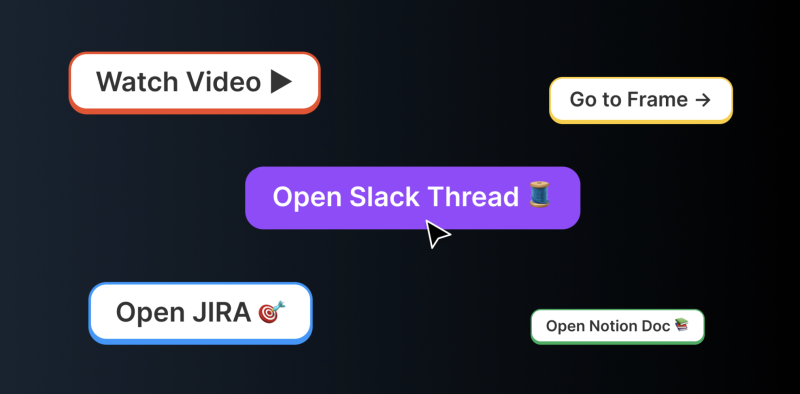 The Button widget in Figma empowers product teams by allowing them to incorporate functional buttons directly onto the canvas. These buttons serve multiple purposes, such as providing convenient access to external webpages like documentation or the equivalent of a top-level frame's production webpage. Additionally, they can be utilized to guide users to specific objects, frames, or layers, serving as a direct link to a prototype's starting point.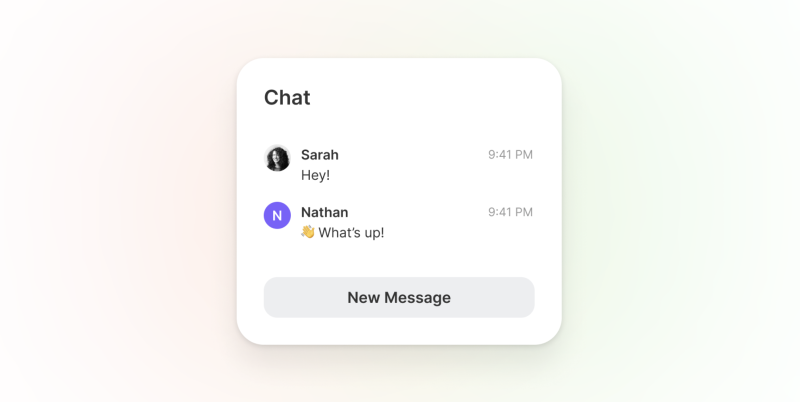 lil chat, developed by the creator of lil notes and lil todo, provides a valuable communication platform for members of product teams. Unlike Figma's audio conversations feature, which may not suit everyone's preferences or be suitable for all situations, lil chat offers a native solution for team members to engage in chat-based conversations.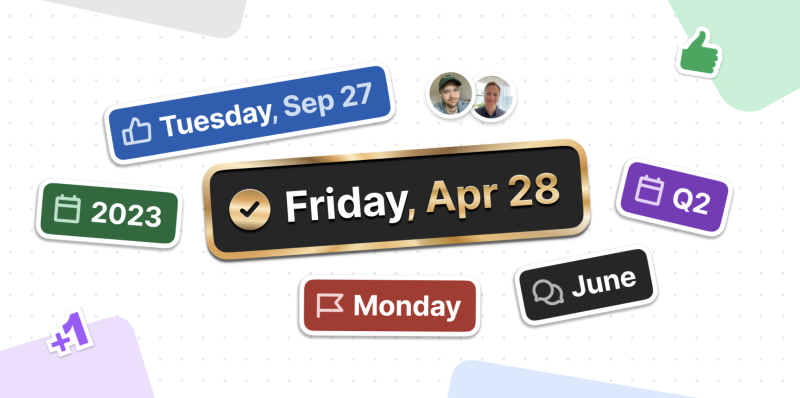 When building products or planning work, tracking the timeline of your progress is crucial. Introducing DateStamp, a sticker-widget for FigJam and Figma, designed by the Lewis brothers. With additional features like statuses, colors, and date formats, DateStamp allows easy timestamping for effective iteration tracking. Stay organized, monitor progress, and celebrate milestones with DateStamp's meticulous attention to detail.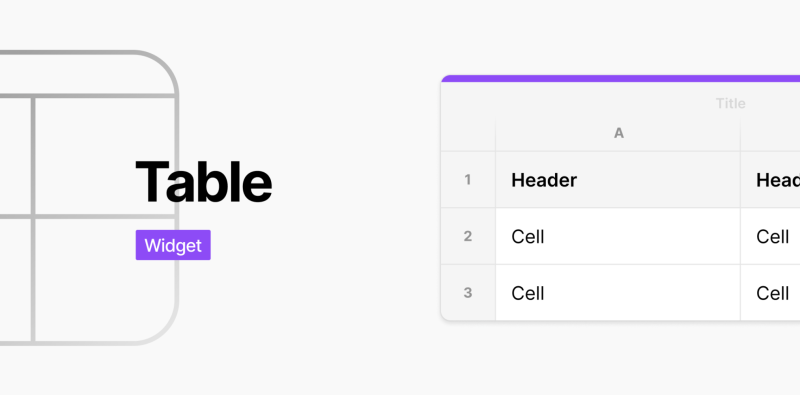 Just like DateStamp, you might be curious about the usefulness of having a table in Figma that isn't directly related to the design. However, tables can serve as valuable tools for documenting a wide range of information.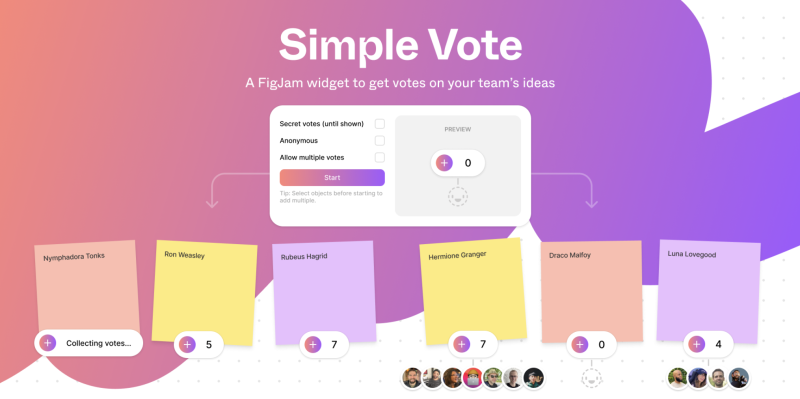 Simple Vote is a powerful FigJam widget for gathering team votes on ideas. It offers options for anonymous voting, displaying voter identities, or conducting unbiased and confidential voting. Easily duplicate the widget to collect votes on multiple items or areas, streamlining the voting process effortlessly.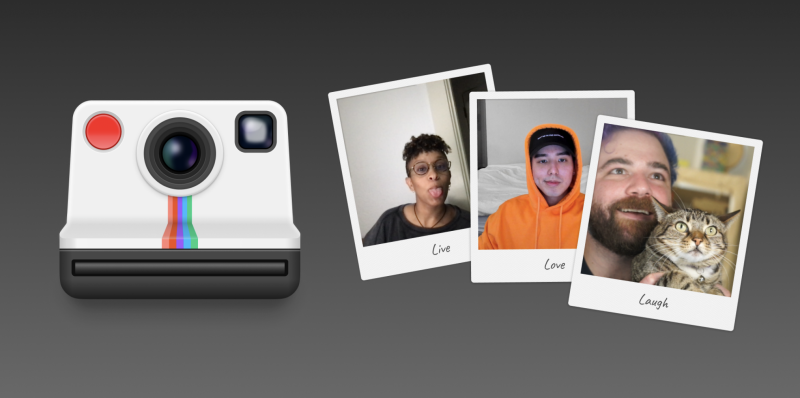 Just like BeReal, Photo Booth allows team members to snap selfies using their webcams and incorporate them into projects. This feature enables team members to capture and preserve memorable moments throughout the project journey, from moments of triumph to lessons learned from setbacks.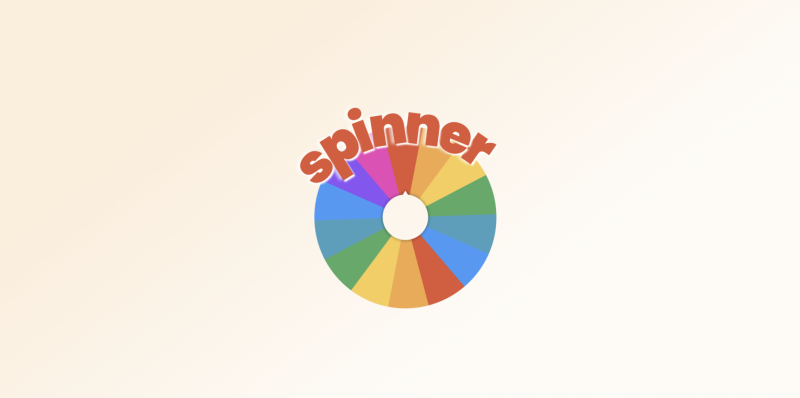 Designed to bring excitement and engagement to your ice breakers, project updates, and brainstorming sessions. With a simple click, this widget randomly selects an active user from the current file, making it an ideal tool to nominate speakers and ensure active participation during meetings.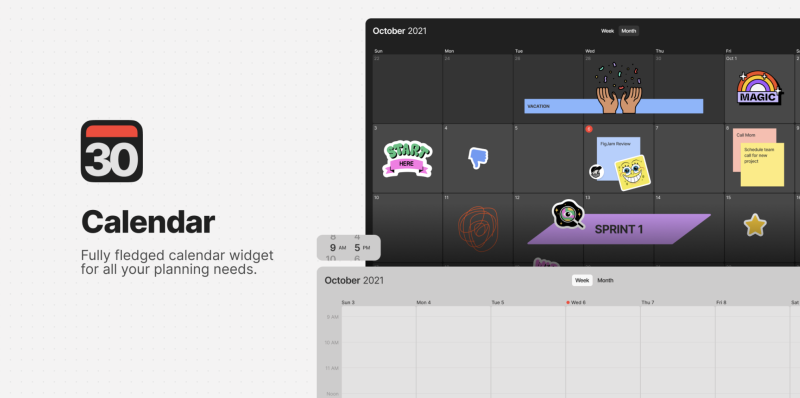 Experience the convenience of the fully-fledged Calendar Widget designed to meet all your planning needs. This feature-rich widget offers a comprehensive calendar experience, empowering you to effortlessly organize and manage your schedule. Simplify your planning process and stay on top of your tasks and events with ease using the versatile Calendar Widget.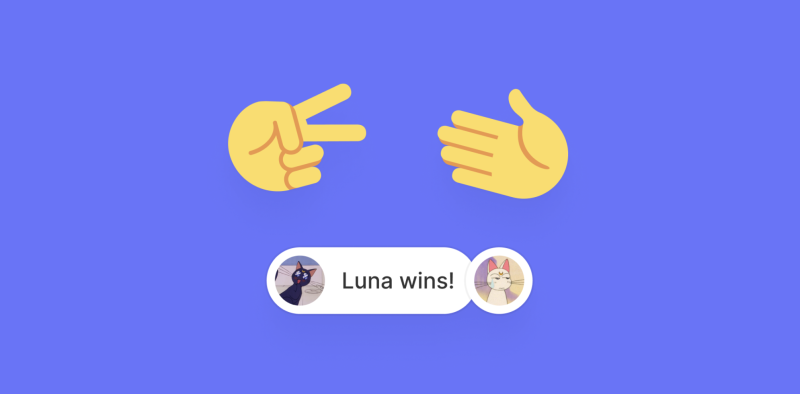 Engage in a lively game of Rock Paper Scissors with your friends right within FigJam! Challenge your peers to this classic hand game and have fun together in a virtual environment. Enjoy the interactive experience of playing Rock Paper Scissors directly in FigJam, adding a touch of excitement and friendly competition to your collaborative sessions.
Conclusion
In conclusion, Figma widgets offer valuable functionality that can enhance your experience with the design platform. While they may not receive as much attention as plugins, their relative newness and limited awareness among users could be the reason behind it. Additionally, the restriction of only editors being able to run and interact with widgets might be a drawback for some.
It is advisable to exercise caution when adding numerous widgets to your shared workspace, considering performance implications. However, the hope is that through this exploration, you have discovered one or two widgets that truly improve your team's usage of Figma.
Thank you for taking the time to read this article and we hope you found it insightful. Embrace the possibilities of Figma widgets and continue to enhance your design collaboration and productivity.
What you should do now
Try our Figma mockups plugin for free and join over 195K designers like you using it to impress clients and speed up their workflow.
And if you're already with us, here are more Figma tips to give you the edge: