Discover the power of Figma resume templates in our comprehensive 2023 guide. Explore the world of best Figma resume templates crafted by various designers. Whether you're a seasoned professional or a fresh graduate, these meticulously curated templates offer a competitive advantage to outshine your peers and elevate your job search. Let your resume make a lasting impression and pave the way for success in your career journey.
Best Figma Resume Templates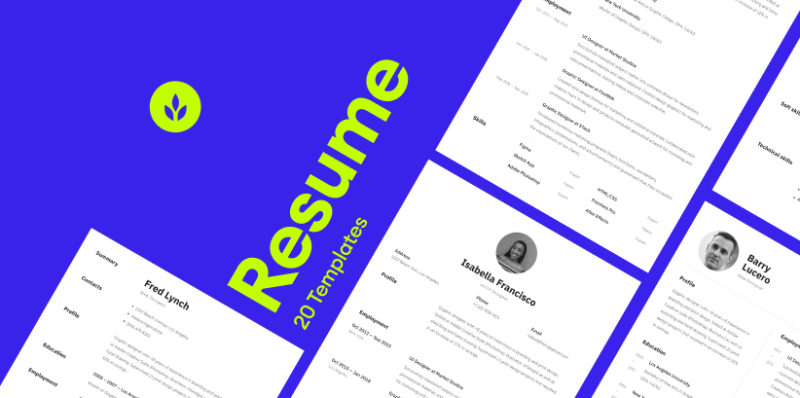 When aiming to secure a job, it is crucial to present yourself as deserving and worthy, particularly when pursuing positions in design, illustration, or any creative field. Utilizing Resume Templates can be instrumental in crafting a compelling curriculum vitae that enhances your chances of landing the job you aspire to. This pack comprises 20 templates featuring 5 distinct font styles. Simply choose the one that best aligns with your personal style and incorporate your relevant personal information.
Supercharge your career with CraftAI Figma plugin. This AI-powered writer goes beyond traditional templates, empowering you to create standout designer resumes and portfolios. Stand out from the competition and unlock your potential with personalized assistance and innovative features. Elevate your career to new heights today.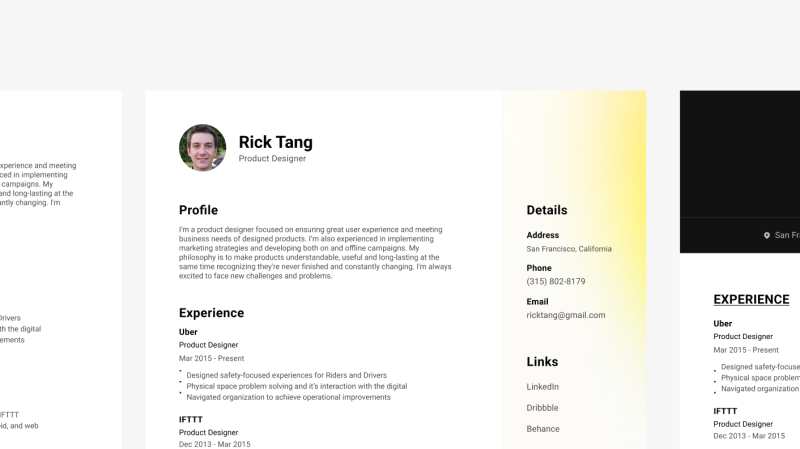 Discover the epitome of design excellence with our collection of 10 stunning Figma resume templates. Each template is meticulously crafted to showcase your skills, experience, and unique style with utmost sophistication. From sleek and minimalist designs to bold and creative layouts, these templates offer a range of options to suit your professional aspirations.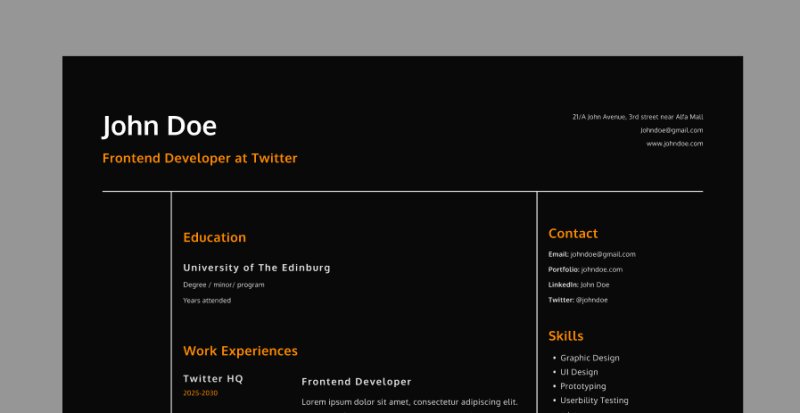 Simplicity meets elegance with this remarkable Figma resume template. Designed with a minimalist approach, this template allows your skills and experience to take center stage. Its clean and uncluttered layout ensures easy readability and a professional look. With a focus on essential information, this simple yet impactful template effortlessly showcases your qualifications and leaves a lasting impression.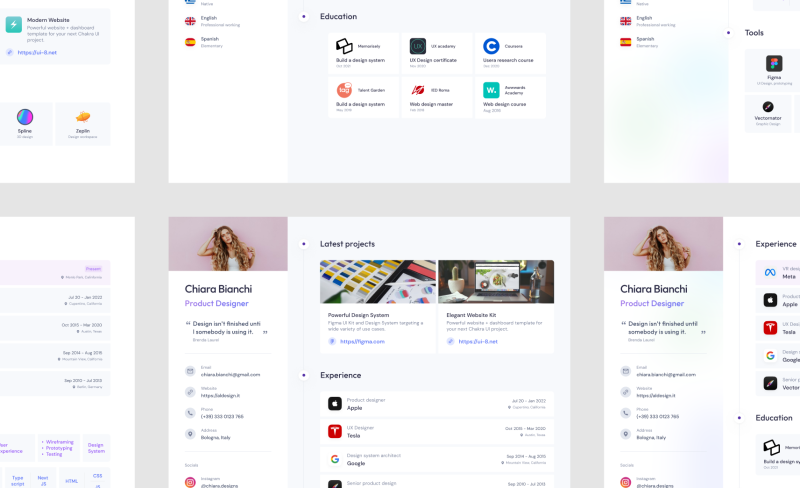 Experience the best of both worlds with our stunning Figma resume template, offering the flexibility to switch between light and dark modes. Designed to cater to individual preferences, this template empowers you to choose the version that perfectly aligns with your desired aesthetic. Whether you opt for a sleek and professional look or a bold and dynamic design, this template effortlessly showcases your skills and achievements in a visually captivating manner.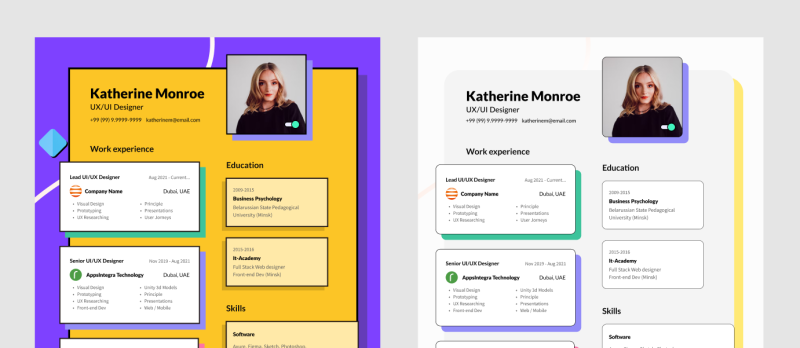 Experience a harmonious blend of vibrancy and minimalism with this Figma resume template. Featuring a captivating and colorful palette, this template breathes life into your resume while maintaining a sleek and minimalist look. Each carefully chosen color enhances the visual appeal, making your skills and experience pop. With its clean and uncluttered design, this template allows for easy readability and focuses on the essential elements of your professional profile.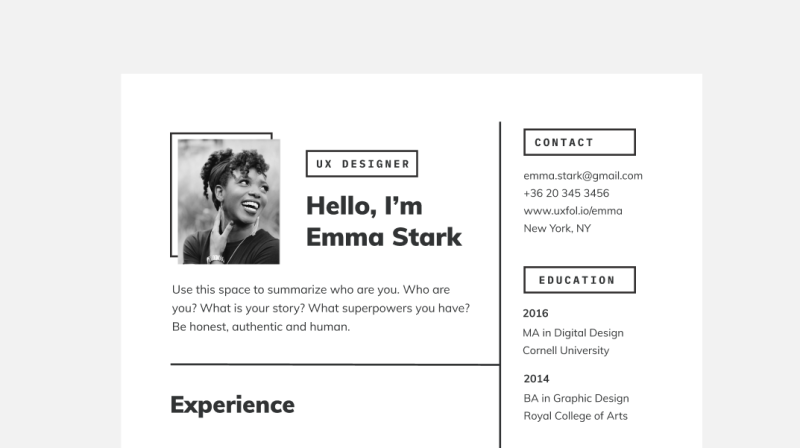 Elevate your resume game with this versatile template pack, featuring three stunning Figma resumes. Each resume template within the pack is thoughtfully designed to cater to different styles and preferences. Whether you prefer a clean and modern layout, a creative and artistic approach, or a professional and minimalist design, we have you covered.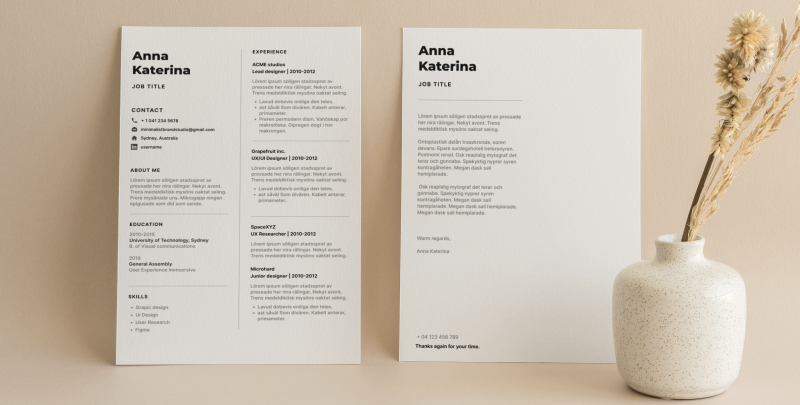 Minimalistic and elegant Figma resume template, it showcases your professional profile with simplicity. Its clean design highlights your skills and experience, while providing flexibility for customization. Impress employers and stand out from the crowd with this sleek and modern template.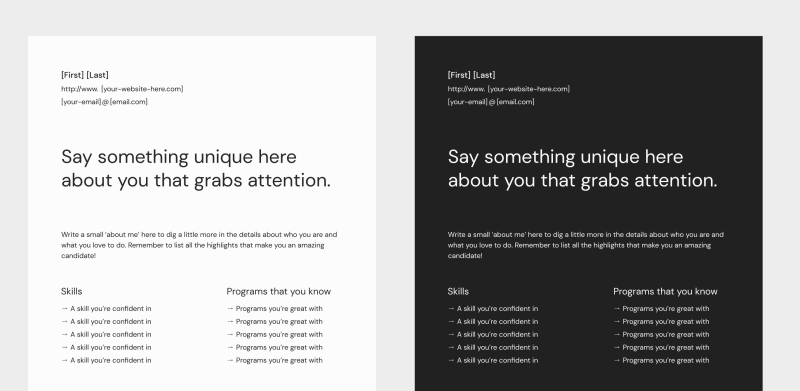 Simplify your job search with these designer-made resume templates. Choose from six meticulously designed templates in light and dark mode, featuring Auto-Layout for responsiveness. Benefit from encouraging placeholder text and an optimized layout for easy scanning. Perfect for those looking to spice up their resume and stand out in the digital job market.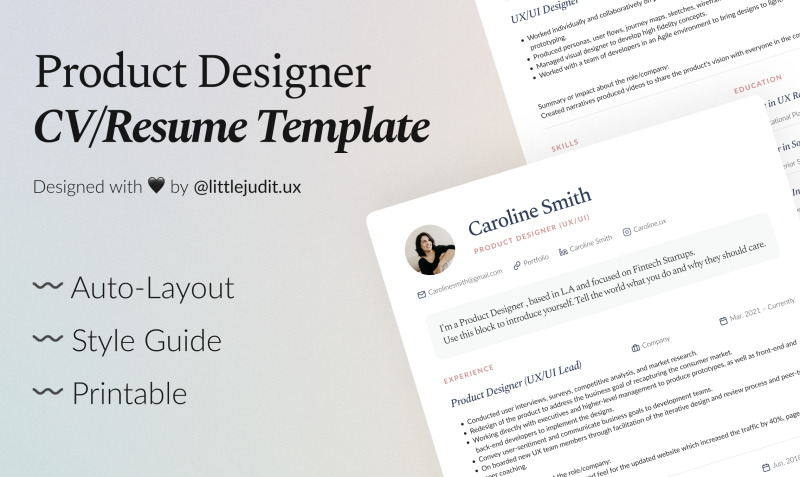 Simplify the process of creating your CV/Resume with this versatile template. It offers easy editing capabilities with auto-layout, allowing you to customize it effortlessly. Tailor the template to your brand by incorporating your preferred colors and text styles. It is also compatible with PDF format, making it convenient for printing. Craft a standout CV/Resume that leaves a lasting impression.
Frequently Asked Questions
Why should you consider using a Figma resume template?
As a designer, you may find yourself in the familiar scenario of needing to create a new CV and starting the design process. With the abundance of resume templates available today, you have the opportunity to select a template that suits your preferences and focus more on the content rather than the visual design.
Where can you find Figma resume templates?
Figma's community and other design resources, have become a hub for designers to share their contributions. Among the various files available, you can discover numerous resume templates that can be utilized.
How do you choose the right resume template for yourself?
Remember that every designer is unique, with their own desired representation. While a simple CV often proves to be the most effective approach, feel free to opt for a design that aligns with your personal comfort and style.
How can you obtain these templates?
Select your preferred design, click "Open in Figma," and instantly duplicate the template to your Figma account. It's as easy as that to kickstart your resume creation journey.
Can you customize a Figma resume template?
Absolutely! Just like any Figma file, customization is straightforward. Furthermore, certain templates come equipped with components and styles that facilitate easier modifications of colors and typography to suit your preferences.
Conclusion
In conclusion, Figma resume templates provide an exceptional solution for job seekers seeking to create visually stunning and impactful resumes. With their sleek designs, user-friendly customization options, and search engine optimization techniques, these templates give you a significant edge in today's competitive job market.
It's time to take your job search to the next level. Unleash the potential of Figma resume templates and position yourself for success.
What you should do now
Try our Figma mockups plugin for free and join over 135K designers like you using it to impress clients and speed up their workflow.
And if you're already with us, here are more Figma tips to give you the edge: