This is not surprising because Android is more cost-friendly than iPhones, with an Android phone available for every price range, whereas most iPhones are almost entirely flagship, high-budget phones.
Considering the high penetration and usage of Android phones, android mockup designs are very useful. Designers can showcase their designs via android mockups on phones that are familiar to their audience.`However, because there are a wide range of android phones, designers need an android mockup tool that allows them to create mockups for their presentations easily. This is where a mockup generator like Mockuuups Studio comes in. Mockuuups Studio is a mockup generator that enables designers to create instant mockups without needing to use Photoshop or any other advanced graphic design software. Mockup generators are also very versatile, allowing designers to design different mockups, including angle mockups, transparent mockups, etc.
If you have a presentation coming up and need an android mockup to showcase your app design, here are a couple of android mockups you can use.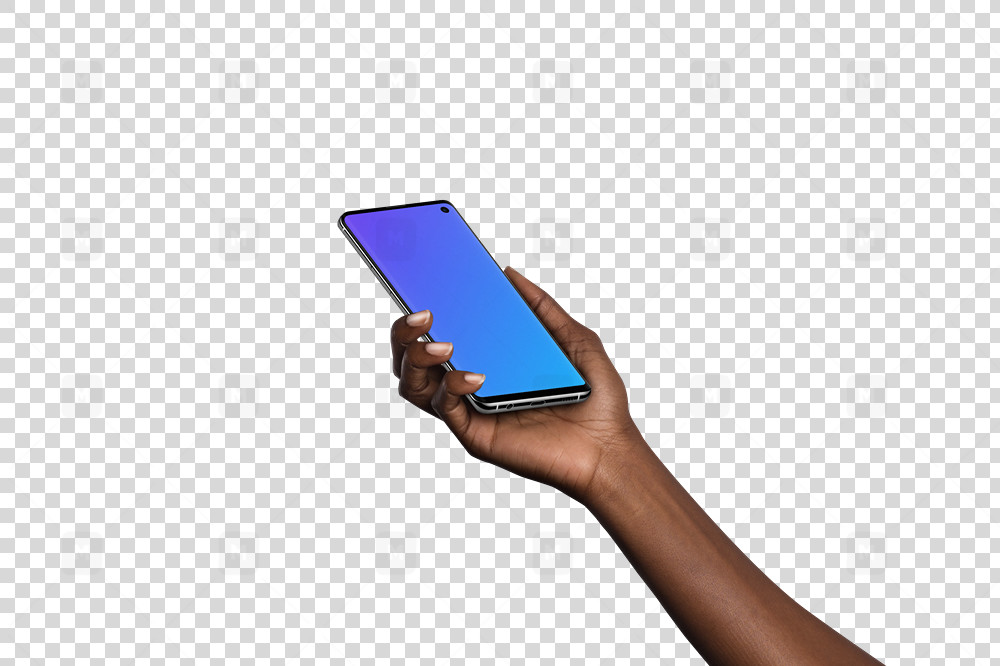 The Samsung Galaxy is a very popular device, which makes it a great option for mockups as it is easily recognizable by users. This Samsung Galaxy mockup is perfect for app designs as it has no watermark and has a screen resolution of (3000x2000). All you need to do on this mockup is to drag and highlight your screenshot from Figma, Sketch, or Photoshop, and Mockuuup Studios will automatically resize it to fit into the Samsung Galaxy display. There is no need for downloading and storing large files.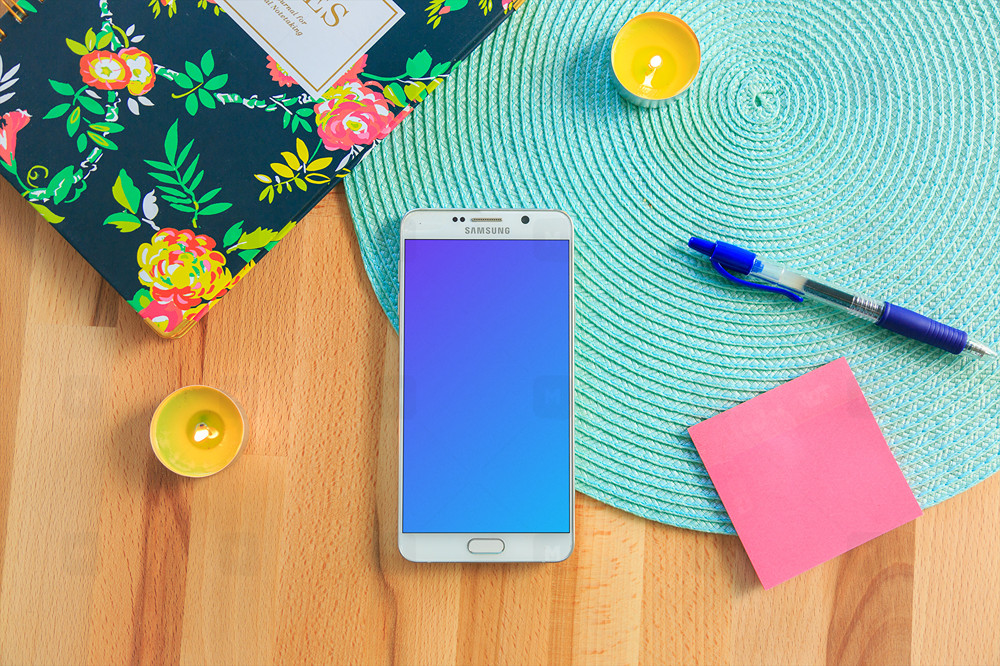 The Samsung Galaxy S6 was released in 2015 and was one of the most popular phones of its generation. You can add a professional touch to your design by using this android mockup. Just upload your images, and you have your mockup.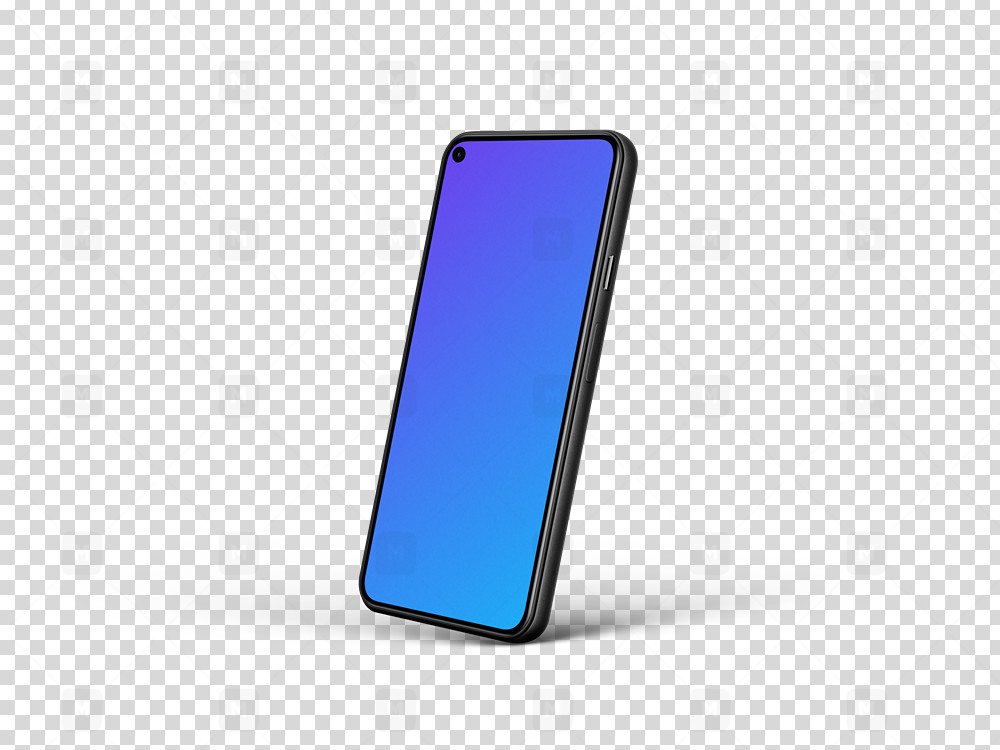 The Google Pixel 5 was Google's flagship phone of 2020 and was extremely popular with Android lovers. This makes it a great choice for developers to use as mockups to showcase their app designs. This particular mockup allows you to showcase designs in a transparent mockup so you can use it anywhere in your design. You can easily generate this mockup with Mockuuups Studio which is a simple hassle-free alternative to photoshop.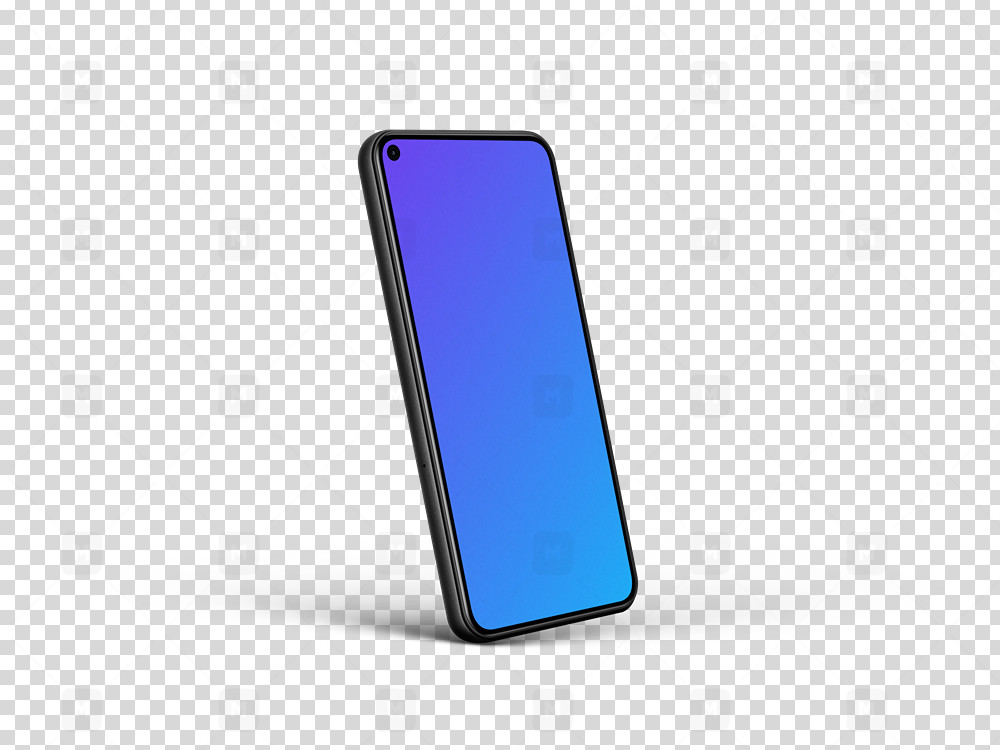 If you are preparing a pitch or presentation of your app or website and want to use an android mockup, you should choose the Google Pixel 5. The mockup comes in a high resolution(8192×6144), and the design is positioned at an angle on a transparent background, which is very reliable for post-production.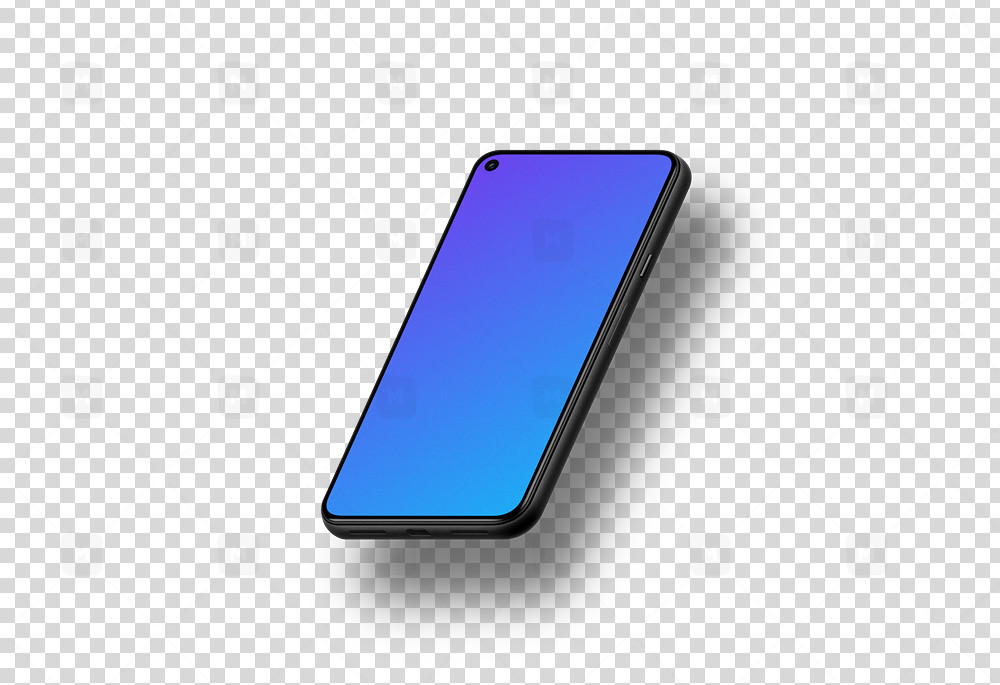 This Google Pixel 5 mockup is popular with designers because it's perfect for presentations and pitches. All you need to do is add your screenshots to the mockup generator, and you have your transparent mockup. Get your mockups today with our instant mockup generator.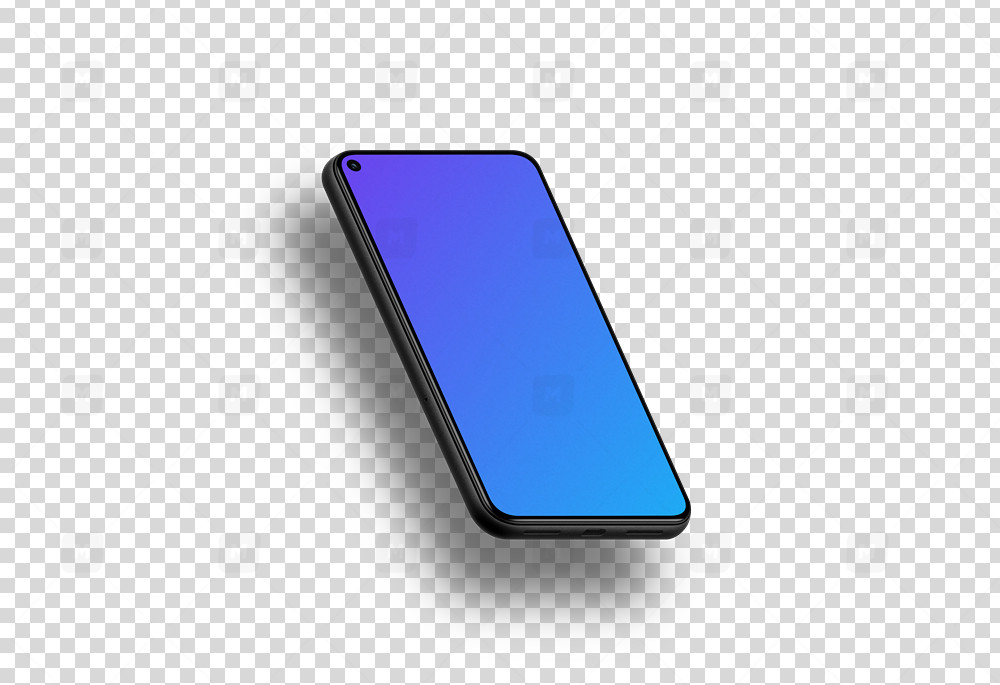 This Google Pixel 5 Mockup is an angle mockup on transparent background. It is perfect for showcasing your designs and is handy for post-production. It has no watermark and high resolution(7000×4800). Our mockup generator is a hassle-free alternative to designing a mockup from scratch in photoshop.
The Google Pixel 4 is another popular android phone from Google and was the predecessor to the Pixel 5. It's a great phone to use as a mockup to present or pitch your designs. This particular mockup is an angle mockup with a transparent background, no watermarks, and a high resolution (9000×6200). To use it, just upload your screenshot to the mockup generator, and you have your mockup instantly.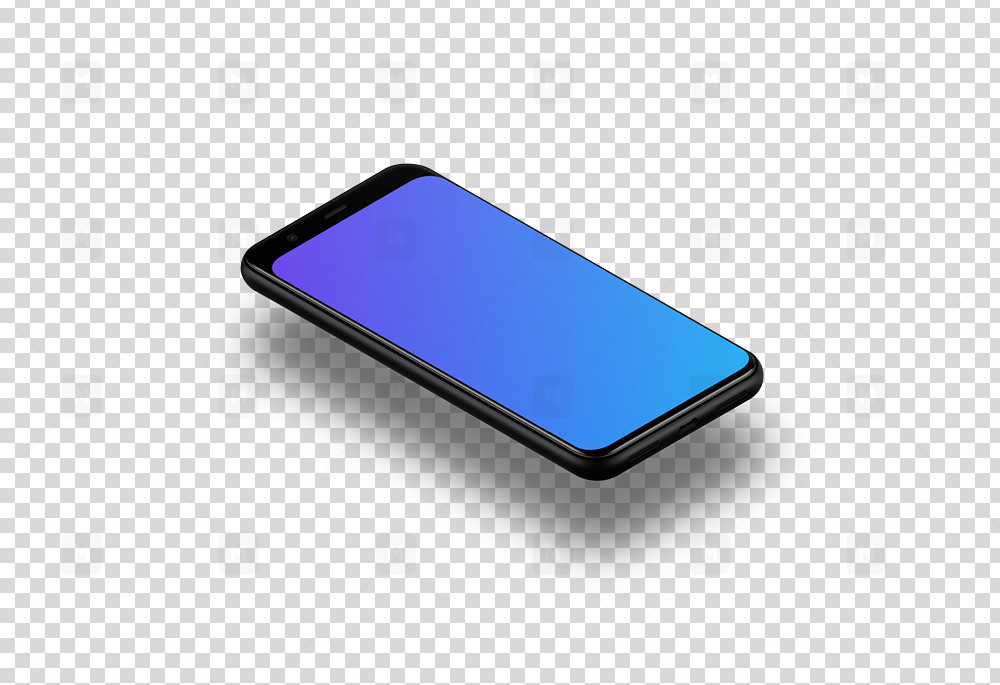 This mockup is perfect to showcase any of your designs on your android phone. This Google Pixel 4 mockup is angled to the left in isometric view and is a transparent mockup that is handy for post-production.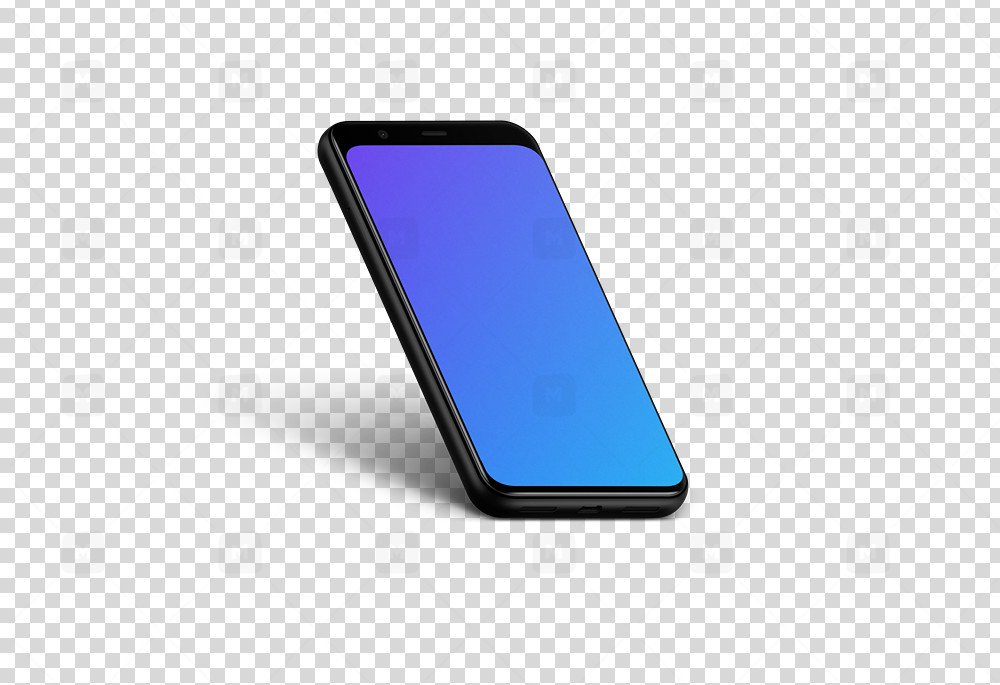 With this android mockup, you can get to customize your designs and showcase your app's beauty with our easy-to-use mockup generator.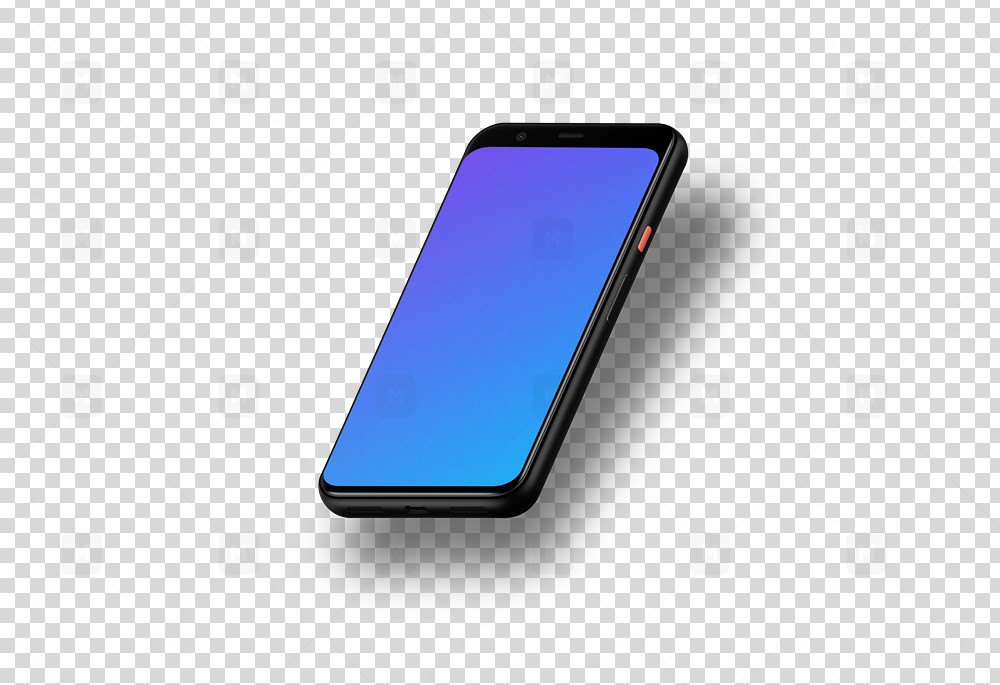 This android mockup of the Pixel 4 allows you to display your app designs easily. The angle mockup is very photorealistic and is also effective for social media marketing. You can create this mockup in seconds with our simple mockup generator.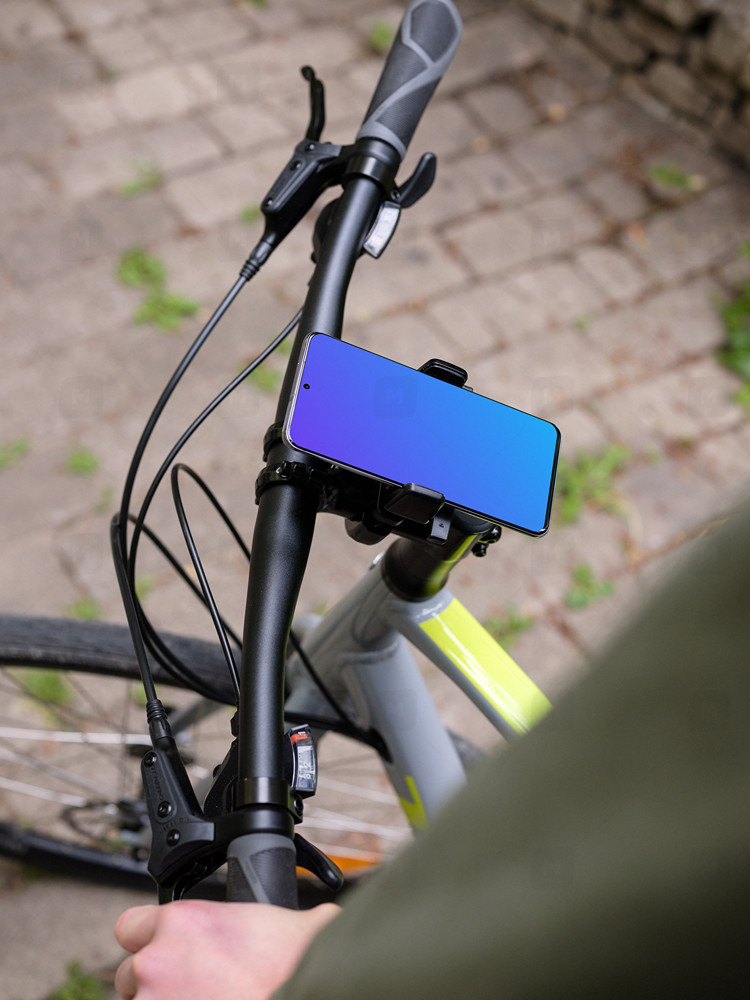 The Samsung S20 is one of the best android devices and is perfect for Android mockups to showcase your designs. This particular mockup is mounted on a bike handle, perfect for showcasing fitness apps, maps, or other apps that work well outdoors. Get your mockup instantaneously with our mockup generator.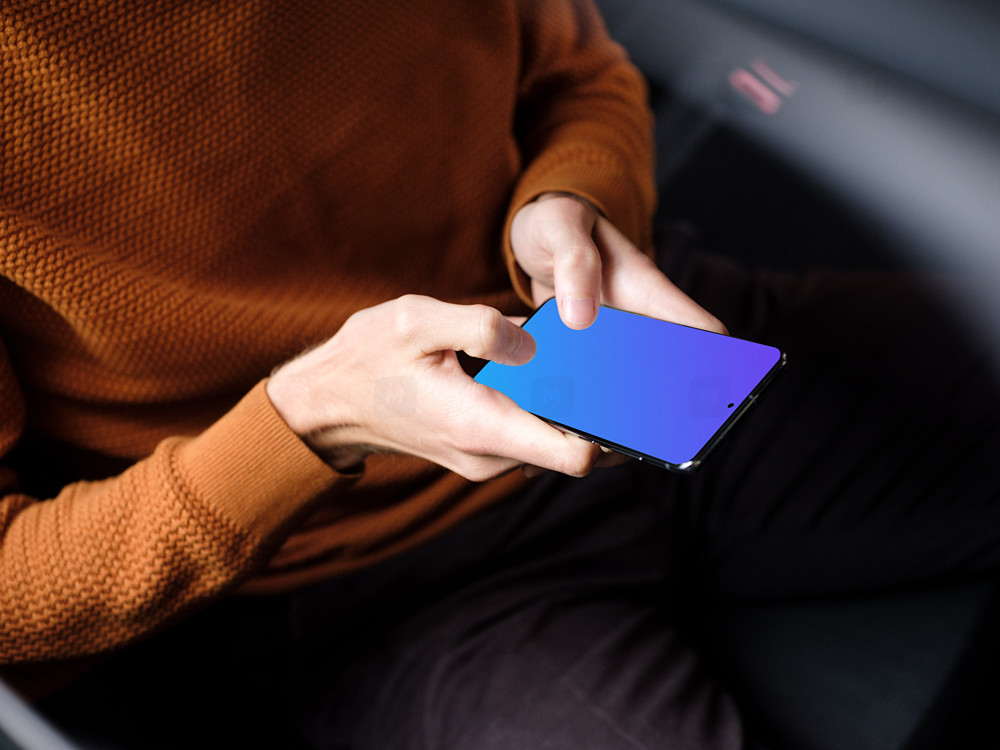 If you want to showcase an app or website design with a user actively using it, this mockup is perfect. The Samsung S20 is a popular phone that many users recognize, making it a great choice to display your designs on. To use this mockup, all you need to do is import your screenshot, and the mockup generator instantly resizes it to fit this angle mockup.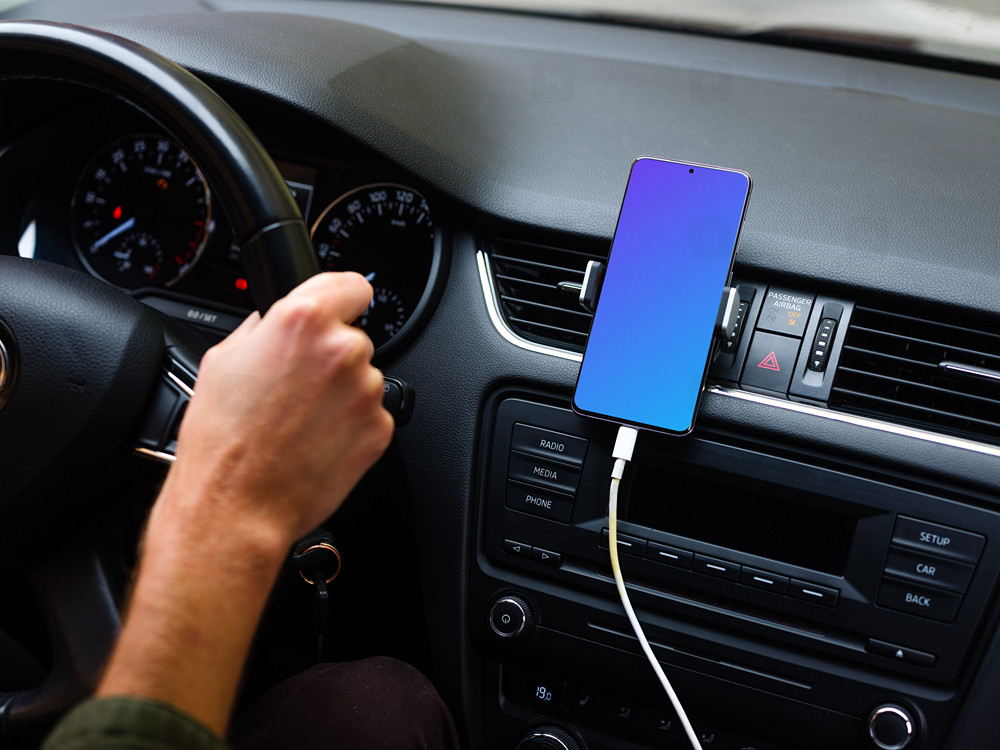 Showcasing your app in use while the user drives is easy with this mockup. If you're presenting or marketing an app that is useful for drivers, this Samsung S20 mockup allows you to showcase it in full glory and in extremely high resolution. You can use this scene and over 700 more using our instant mockup generator.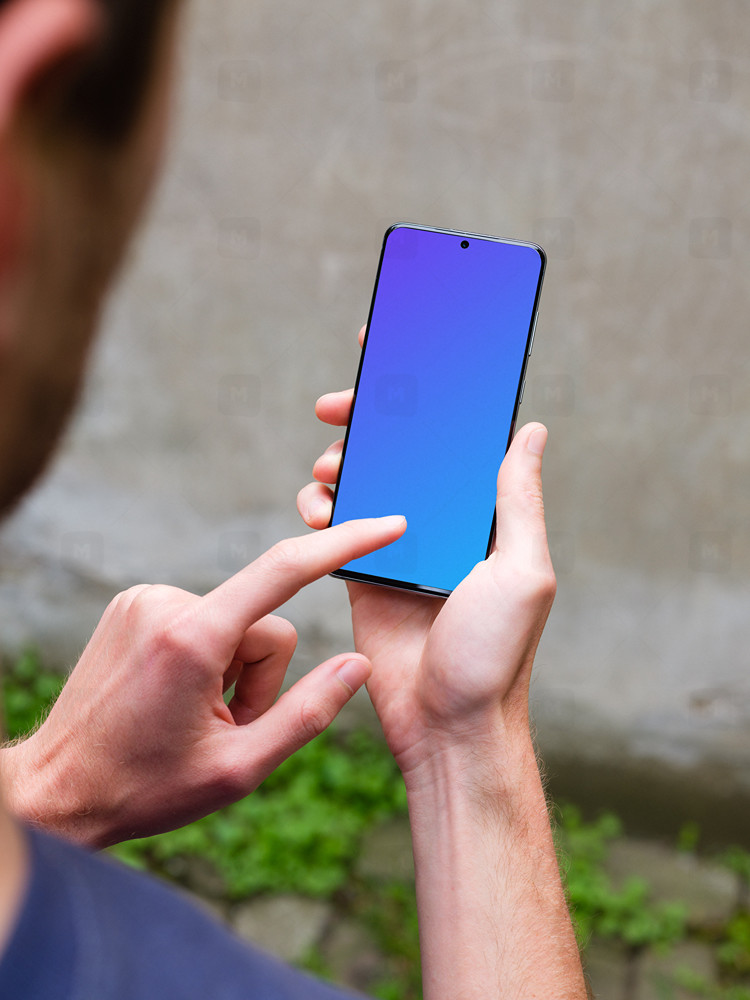 You can easily showcase your app design while in use outdoors on a flagship Samsung S20. Designers will find this mockup super useful when showcasing their app or design in use in multiple locations like the outdoors. Generate your own android mockup in minutes with our hassle-free mockup generator.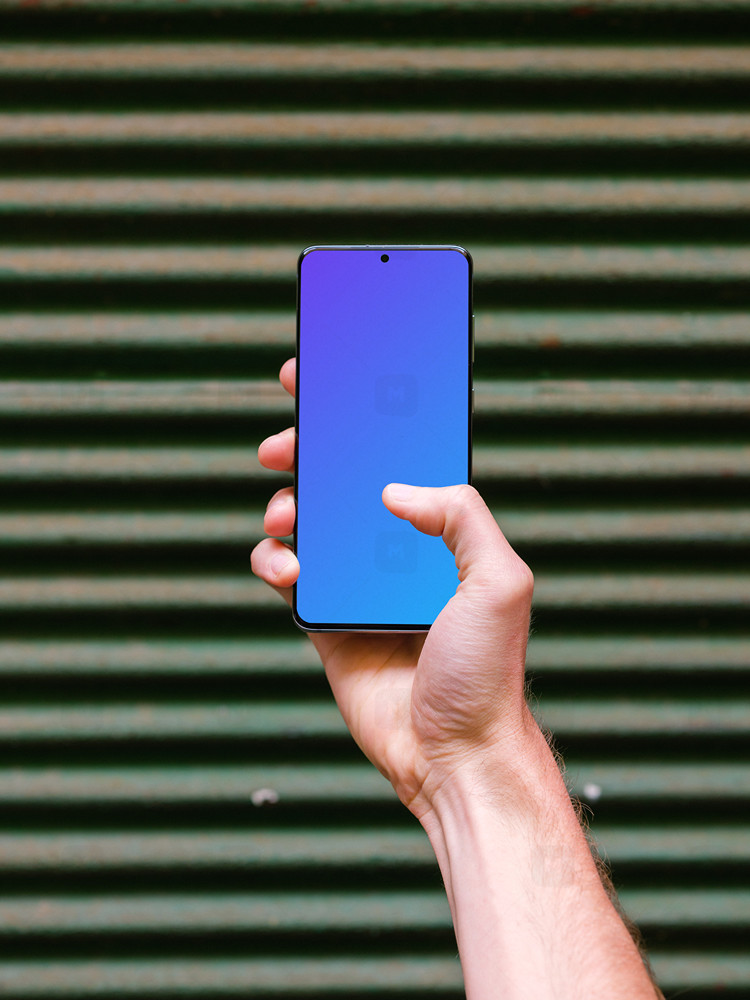 This android mockup places the Samsung S20 in a good scene so that your app is in full focus so that users can easily see how the app will look during everyday use. You can recreate this scene to use in your marketing, presentation, or pitches without having to design from scratch in Figma or Photoshop. With our mockup generator, you can generate scenes like this instantly.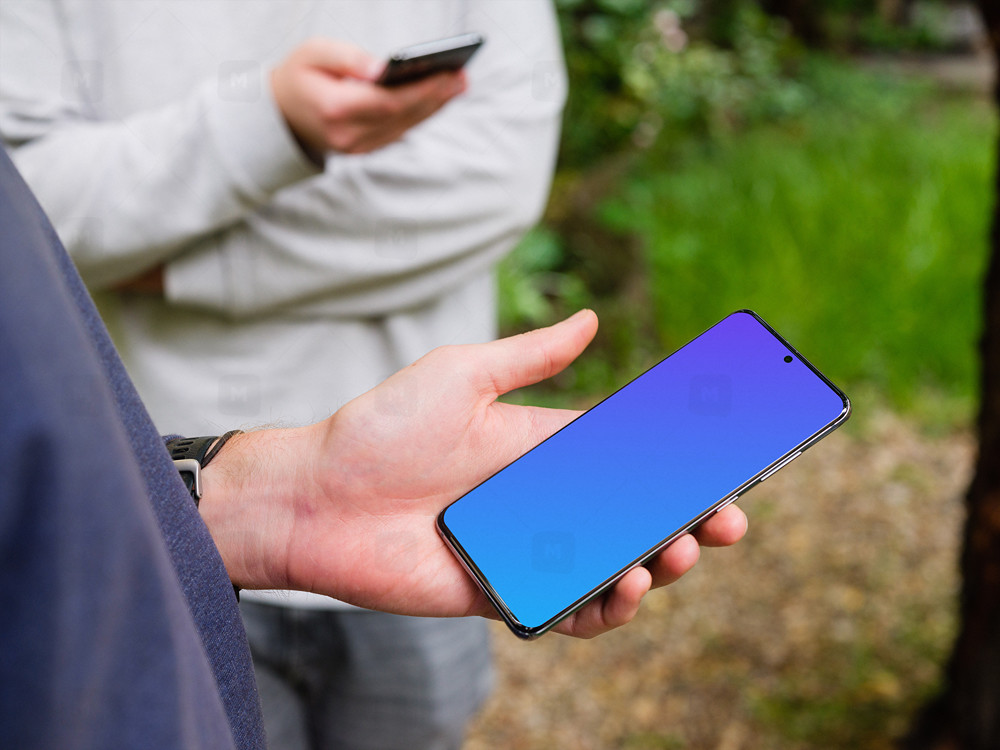 This mockup showcases a Samsung Galaxy S20 being held by a man with his friend in the outdoors. This scene is perfect for website designs or communication apps simulations because it evokes a sense of friendship. Use this scene for your designs today with our instant mockup generator.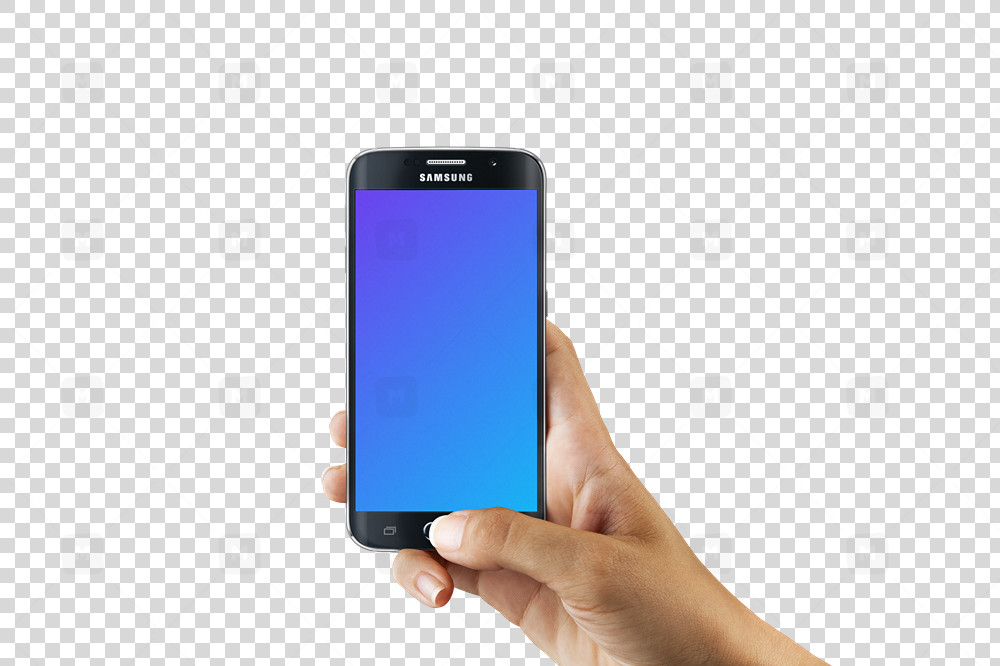 This android mockup showcases a black Samsung Galaxy S6 being held by a hand. It's a transparent mockup, which gives the designer the freedom to import the scene in any kind of design they want and also makes post-production easier. Moreover, it's high quality and easy to generate with our instant mockup generator.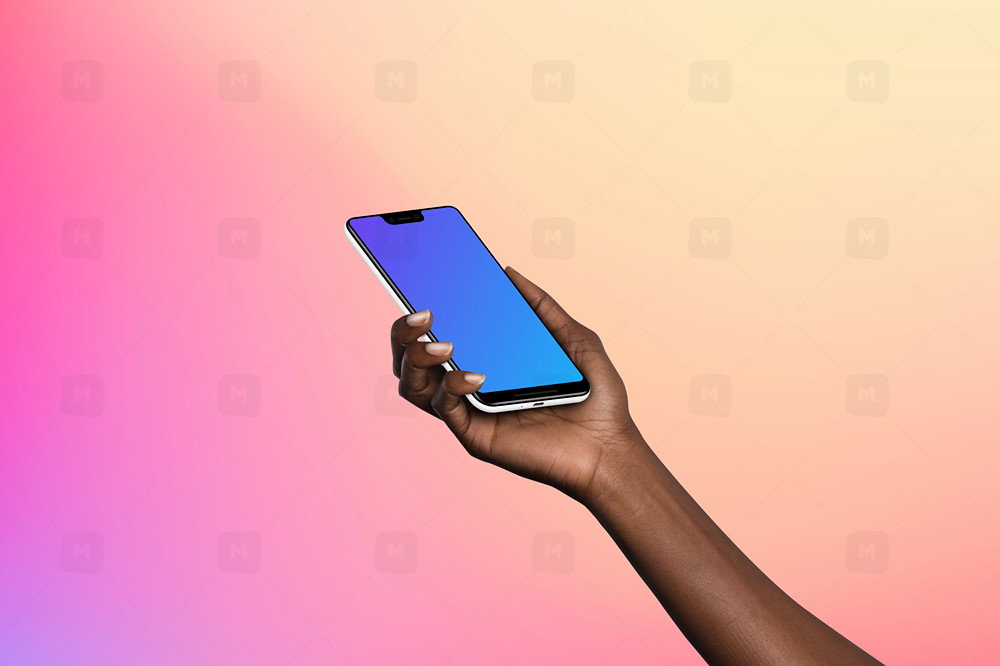 This android mockup is perfect for marketing any app or design that will appeal to the female audience like shopping apps, social media apps, and more. The Google Pixel 3 comes with a sleek design that users loved when it was released and is still attractive when used to display apps or designs during marketing campaigns. Start generating instant mockups today with our mockup generator.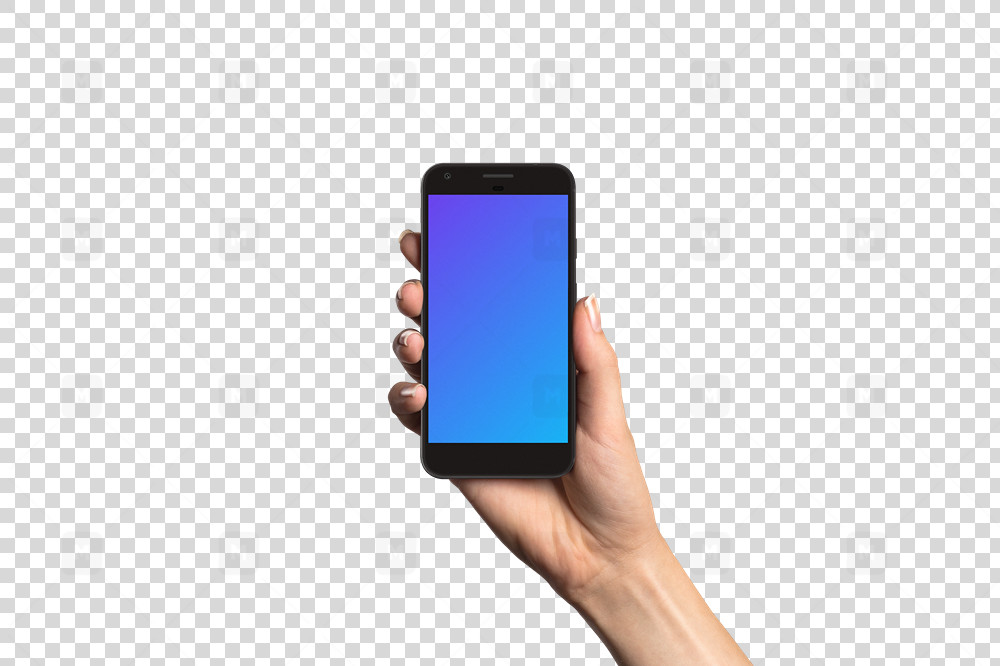 This black Google Pixel android mockup comes with a transparent background that's perfect for post-production. With this transparent mockup, you can easily showcase your app designs on the Google Pixel phone and use the mockup in your presentation, pitch, or marketing materials. You can generate over 600 more scenes like this instantly with our mockup generator.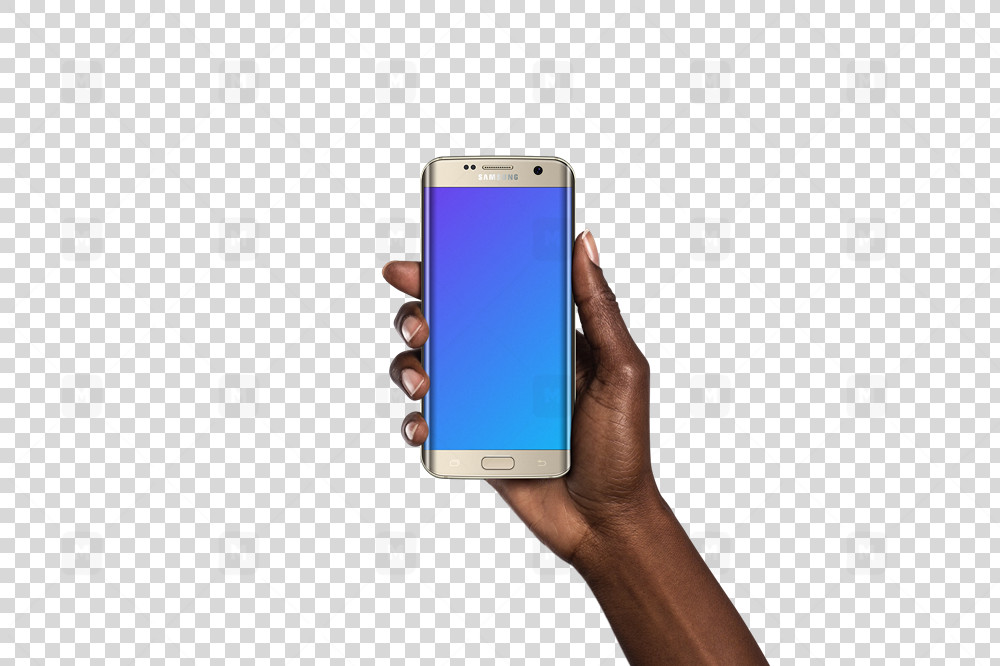 The Galaxy S7 is another iconic android phone that many users loved. In this scene, the phone is held by a dark-skinned woman, which positions it in the perfect position to showcase your app or website design from a user's perspective. This is also a transparent mockup, which is very handy for post-production and further development. You can generate this mockup with ease and without the hassles of photoshop or other complex design software.
Why you should use a android mockup generator for your apps?
For designers, mockups provide the best way to showcase your designs and concepts while simulating real-world use and showing the use-cases. However, it can be quite tedious to create a mockup from scratch with design software like Photoshop, Figma, or Sketch. Our mockup generator conveniently solves this problem by providing over 700 mockup scenes that you can use instantly. Now, you can showcase your designs on a wide range of devices, from android devices to iPhones, Laptops, and even smartwatches. No matter what kind of design you're creating, there's a mockup for it in our mockup generator.
What's more, at Mockuuups Studio, using our mockup generator is extremely easy. All you need to do is upload a screenshot of your app's design, and the generator instantly resizes it to fit on a wide range of devices and scenes. You can then choose the kind of mockup you want, including transparent mockups, angle mockups, and so many more. We also have a Figma plugin that allows you to create a mockup right within Figma, so you don't have to pause your workflow,
Get Mockuuups studio and start creating your android mockups today!