Isometric mockups and perspecetive mockups have become increasingly popular in the world of design due to their ability to add depth and dimension to visual representations. Creating isometric mockups may seem daunting at first, but with the right techniques and tools, you can easily master this art form. In this comprehensive guide, we will walk you through the process of creating captivating isometric mockups, step by step. Whether you are a beginner or an experienced designer, this article will provide you with the knowledge and skills to create stunning isometric mockups that will impress your clients and elevate your design projects.
How to Create Isometric Mockup?
Creating an isometric mockup requires careful planning and attention to detail. Follow these steps to achieve outstanding results:
Jump to:
Define your concept and goals
Before diving into the creation process, it's essential to have a clear concept and set of goals in mind. Ask yourself: What is the purpose of the mockup? Who is the target audience? What message or story do you want to convey through the design? Having a well-defined concept will guide your decisions throughout the creation process and ensure the final mockup aligns with your objectives.
Gather inspiration and references
To create a unique and visually appealing isometric mockup, it's crucial to gather inspiration and references. Explore various design platforms, websites, and social media channels to discover innovative isometric mockups created by talented designers. Take note of color palettes, composition techniques, and stylistic elements that catch your eye. This step will help you develop a better understanding of design trends and assist you in creating an original and captivating mockup.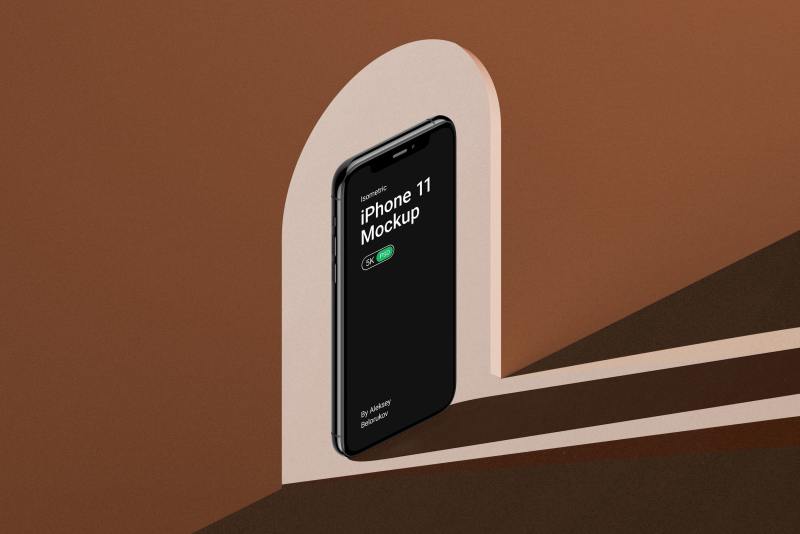 Isometric iPhone Mockup by Creatoom
Perspective iPhone Mockup by Mockuuups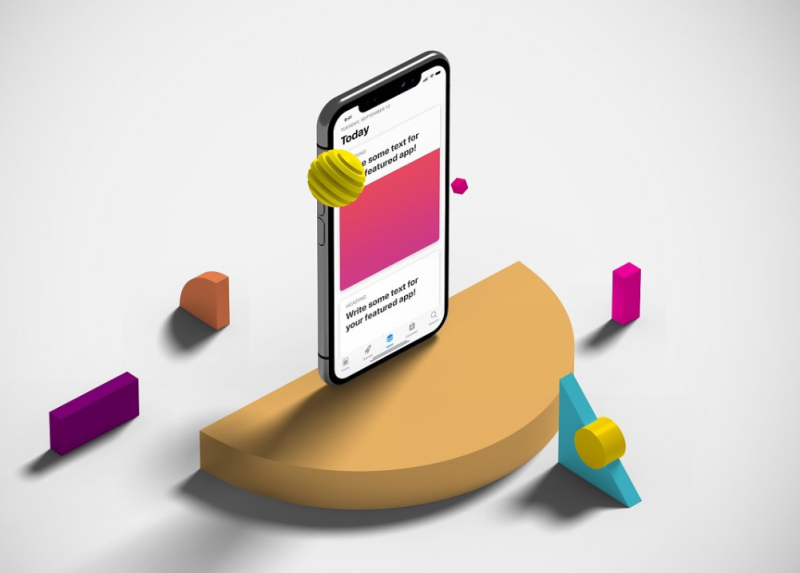 Isometric Smartphone Mockup by Momogi
Choose the right software
When it comes to creating isometric mockups, selecting the right software is of utmost importance. Some popular design software options worth considering include Adobe Illustrator, Sketch, and Figma. These tools offer a wide range of features and functionalities that are specifically tailored for design projects. It's essential to evaluate the pros and cons of each software and choose the one that aligns with your skill level and design preferences.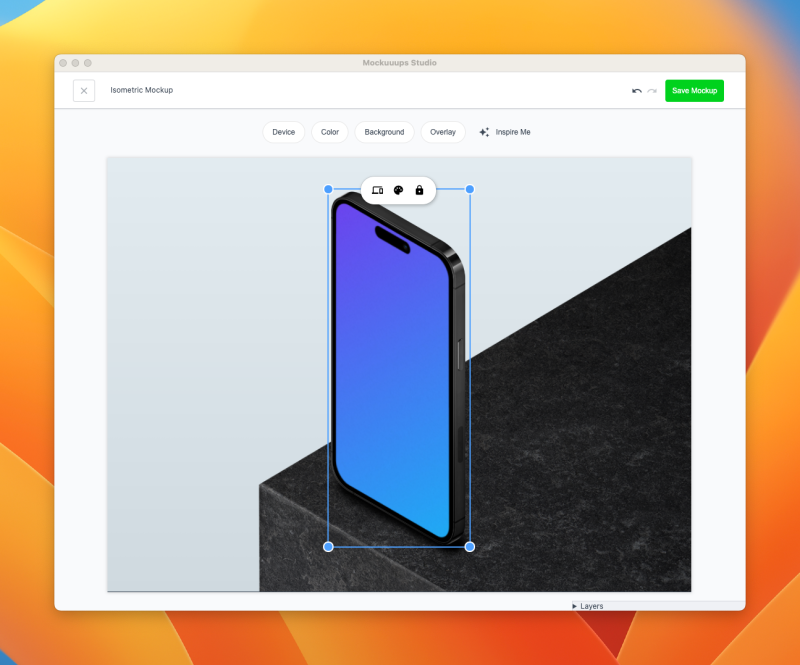 Within our own tool, Mockuuups Studio, we take great pride in offering an all-in-one solution for isometric mockups. Our powerful Editor has undergone continuous improvement, enabling our users to effortlessly select from a vast collection of device mockups. Editor provides the flexibility to seamlessly switch between various angles and customize elements, granting our users unprecedented control and creative freedom.
A Step-by-Step Guide
1. Open the Editor and select a device
2. Browse device angles
3. Customize device and scene
Optionally you can start from pre-made templates
FAQs (Frequently Asked Questions)
Can I create isometric mockups without professional design software? Absolutely! While professional design tools offer advanced features and flexibility, there's an alternative worth considering called Mockuuups Studio. It can help you achieve remarkable results in your mockup designs.

Can I use pre-made isometric mockup templates? Absolutely! Pre-made isometric mockup templates can be a great starting point for your designs. They provide a foundation that you can customize according to your needs and preferences, saving time and effort in the process.

How can I make my isometric mockup stand out from the crowd? To make your isometric mockup stand out, focus on creating a unique concept, paying attention to details, using colors effectively, and incorporating engaging visuals. Experiment with different techniques and styles to add your personal touch to the mockup.
Conclusion
Creating isometric mockups can be an enjoyable and rewarding endeavor. By following the step-by-step guide provided in this article, you can unlock your creativity and design stunning isometric mockups that captivate your audience. Remember to define your concept, gather inspiration, choose the right software and iterate your design. With practice and persistence, you can master the art of creating isometric mockups and elevate your design portfolio.